Much has been made of the real estate bubble of 2005-2006. The news media has been full of information about when prices spiked, but most of that information has been too general to be of any real use to a Bay County homeowner or investor. Remember, real estate, just like politics, is local. National and statewide numbers are interesting, but what is really important to you and me is Bay County numbers.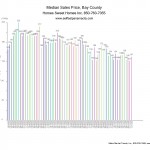 The peak median price for a single family house in Bay County Florida peaked in July 2005 at $225,000.  Click on the chart on the right to enlarge.
But Bay County is a diverse place.  What happens in Panama City does not mirror what is happening in Panama City Beach.  Breaking the data down by ZIP Code gives one a better idea of what happened.  Click here to see a map of the ZIP Codes in the county.  Notice that 32401 (Panama City south of 15th Street) didn't rise nearly as high as other areas of the county.  And, surprisingly, 32409 (Southport) reached amazing heights…no doubt due to the high-end construction in Kirkland Manor and around Deerpoint Lake.
ZIP             M/Y        Median Price
32401       7/06       $150,000
32404       7/06       $197,000
32405       1/06       $221,000
32409       4/06      $410,000
32444     11/05      $259,000
32407       4/06      $302,000
32408     11/05      $416,000
32413       7/05      $345,000
32466       6/05      $238,000
Now that we know when things peaked, we need to look at what has happened since then.  Stay tuned….