Bay County is a diverse place.  Looking at sales trends for the entire county doesn't really tell the whole story, since different parts of the county behave in different ways.  The real estate market in Panama City is very different from the market in Panama City Beach, Lynn Haven is a different animal, and Callaway-Parker-Springfield are separate as well.  In trying to get a feel for what is happening in different areas, one could break down the market by subdivisions, or municipalities, or section-township-range divisions…but for this context, I have chosen use ZIP codes.  The following charts show the median sales price of single family homes on a monthly basis, from January 2005 to November 2010.  Click on the thumbnails for a full-page view of any chart.
Panama City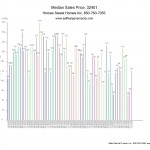 32401, Panama City south of 15th Street, peaked at $150,000 in July 2006, and hit a low of $40,000 in January 2010.  The 32401 ZIP Code has lower values than many other areas of the county due several areas of urban blight that skew the numbers down.  This becomes especially evident when you consider that 32401 includes The Cove, which has values much more stable than this chart indicates.
.
.
.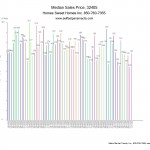 32405, Panama City north of 15th Street, peaked at $221,000 in January 2006, low of $120,000 in October 2010.  Notice how much higher median values are in 32405 over 32401, due to newer, higher quality construction as the city grew north.
.
.
.
Lynn Haven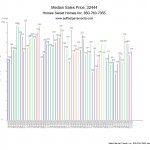 32444, Lynn Haven, peaked at $259,000 in November of 2005, and hit a low value of $123,000 in February 2010.  Lynn Haven has faired a little better than 32405, but not by much.
.
.
.
.
Callaway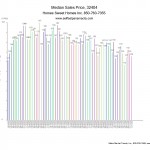 32404 encompasses the cities of Callaway, Parker, and Springfield, as well as what used to be Cedar Grove.  This area peaked at $197,000 in July of 2006, low value of $112,000 in July 2010.  Areas close to military bases tend to have lower property values than other surrounding areas, due to the transient nature of many military personel.  Short tours of duty means that many people will rent instead of buy, and those that do buy often are not in place long enough to build equity in their homes, and end up foreclosing.  Even back when the market was "normal", 32404 had the highest rate of foreclosures in the county, mainly 100% financed VA loans where the owner got transferred and didn't have the equity to pay for the costs of selling the house.
Panama City Beach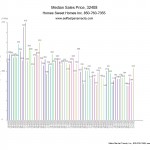 32408, the Grand Lagoon Area, peaked at $416,000 in November of 2005, low value of $140,000 in August of 2009.  October (397K) and November (416K) 2005 seem to be outliers.  If you we to exclude them, the peak value would be $332,000 in July of 2006.
.
.
.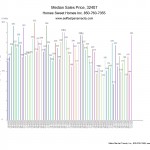 32407 "Mid Beach", peaked at $302,000 in April of 2006, low value of $112,000 in January 2010.  November 2010 was a very good month at $263,000, but it appears to be an outlier…we will know when the December numbers come out!
.
.
.
.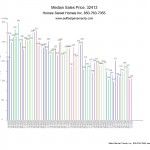 32413, PCB west of Colony Club.  The famed "West End" peaked at $345,000 in July of 2005, and hit it's low value of $137,00 in January of 2010.  Looking at the chart, 32413 has had the most consistent downward trend of any of our ZIP codes.
.
.
.
Bay County North
NOTE:  Values in the northern areas of Bay County tend to be all over the map.  This is because there is such a mix of properties that are classified as Single Family Residential…they can range from a big house with several acres of land to a shack or fish camp.  Combine that with a lower total sales volume, and you tend to get more "outliers" than you will get in other areas.  Just keep that in mind as you look at the next two charts.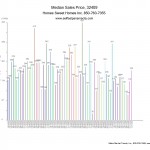 32409, Southport and north up Highway 77.  I am going to call the two high values outliers and say that this ZIP peaked at $342,000 in November 2006, with a low value of $30,000 in January 2009.
.
.
.
.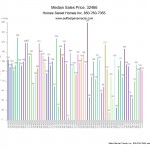 32466, Youngstown and Fountain.  If you count June of 2008 as an outlier, the peak would have been $238,000 in May of 2005, with a low value of $8,000 (another outlier) in August of 2007.
.
.
.
.
So there you have it…six years of Bay County price trends, broken down by ZIP code.  The question now is…where to we go from here?  Stay tuned….